Welcome to Reliant Mortgage
One of the Top South Regional Mortgage Lenders!
At Reliant Mortgage, we want to create enduring relationships with our clients!  This way you can feel assured that you have found your one-stop shop mortgage company for many years to come. The Reliant Mortgage team is here to assist you in your home buying needs, whether big or small. We help anyone, from first-time home buyers to seasoned real estate investors, attain the financing they require. We offer an array of services and always ensure we find the right mortgage that suits your requirements.
The mortgage process can be complicated, yet we have created effective and efficient methods to simplify the coordination and diminish obstacles, resulting in a short 30 Day Closing Date.  Our Gold-Standard practices have been achieved through our expert Mortgage Loan Officers with over twenty years of combined experience.  They are here to help you financially triumph in the home of your dreams! Our goal is to provide you with the lowest interest rate available through our numerous lender partnerships.
As one of the top Southern Regional Mortgage Companies, we alleviate the approval phase by pre-approving borrowers within an hour, while providing a written pre-approval certificate to present with their Purchase Contract.
Our ultimate goal at Reliant Mortgage is to establish a significant and long-lasting relationship with each of our clients, so that we may continue providing excellent and trustworthy service for many years, all while providing quality best-cost financing.  Additionally, we offer a real-time live mortgage quote, and a customized rate quote that reveals the actual rates we offer at 0 origination, click GET A QUOTE tab to review them.  We would love to earn your business! We are a great choice for any one looking to buy a home as well as anyone looking for online mortgage lenders.   Feel free to get your free quote by clicking GET A QUOTE, and contact us for more information to begin our simple process of home buying. One of the few local online mortgage lenders in your southern area. We have locations in Houston, TX, Spanish Fort, AL, New Orleans, LA, and Baton Rouge, LA.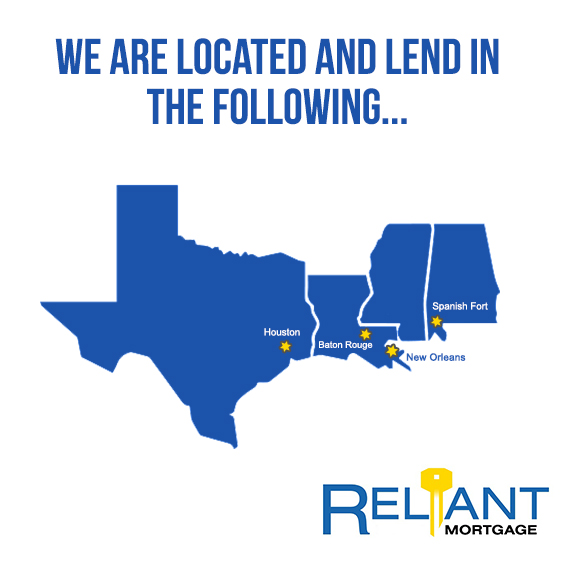 "Purchasing a home started out as a horrible experience until I met Will. Reliant Mortgage made me feel like I was important. They worked hard night and day to make my dream come true. I'll tell anyone purchasing a home to put there trust in Reliant Mortgage."
"Great experience using Reliant Mortgage. Josh made this process very easy and stress free. He did everything he could to make sure we were well taken care of in every aspect of the home buying process. I highly recommend this company and Josh If you are in the market for…Read More→
"Absolute pleasure to deal with. Having just switched jobs, I was expecting the worst. Josh was extremely attentive and always took my calls (of which there were plenty). Not being in the real estate business, I seemed to always have new questions that I needed answered. My real estate agent…Read More→
"These guys are awesome! I just closed on my house a week ago and I wouldn't have been able to do it without josh and everyone's help! They have great customer service and are always in contact with you. They are easily and readily available whenever you need them! Highly…Read More→
"Reliant Mortgage recently helped me in the purchase of my first home! They were extremely helpful and very informative! Definitely would recommend them to anyone!"
"I am so thankful for this company, namely Will . I was being given the run around by another mortgage company to the point I had just given up. I heard an ad on the radio one morning for Reliant Mortgage. I contacted Will in November 24,2015 and closed on…Read More→
July 23, 2018
The main aim of real estate investors is to increase the value of their homes. They usually prefer the value of their property to be worth way more than how…
4.8 out of 5 stars (based on 217 reviews)
Called the Big Mortgage Companies
I called and called all the big Mortgage Companies out there and they were all quick and seemed to want to hang up with me as fast as they could as if I was just a number to them until I heard a sweet voice when I called Reliant Mortgage. Carolyn Long talked with me and was very informative and answered all my questions. She even convinced me to purchase a home instead of the condo I was trying to purchase which made total sense once she explained it all. She also put me in touch with an insurance agent who was cheaper than the company that I usually use. Carolyn was available many times after 7:00 pm to answer my questions that would pop into my head. We closed on time and I ended up paying half of what I thought I would have to pay at closing which I definitely lover. I highly recommend Carolyn Long and the team at Reliant Mortgage as they were so personable and I felt like I was talking to friends. I will definitely be using them again in the future and suggest you do too!
Submit a Review